Crane service
at the next level
Speak with a lift specialist now. Our team is ready to find the solution to your lifting needs: HVAC, spa, pools, trees, landscaping & more.
NCCCO Certified & qualified crane operators
Boom truck fleet of four cranes to serve you
Free removal and responsible recycling of your old units
Trained lifting specialists are standing by to offer free job evaluations and lifting solutions for your project
Our full-service crane company helps you get the job done safely, on time, and with the professionalism you deserve.
321 Crane is a full-service crane company that offers turn-key solutions for all of your lifting needs. The combination of our experienced crane professionals, a new fleet of Manitex cranes, and our commitment to go above and beyond can GUARANTEE your expectations will be exceeded.
Ask about our responsible HVAC removal and recycling solutions.
Crane fleet
321 Crane has a NEW fleet consisting of both 22 & 40 ton boom trucks as well as our new Link-Belt 75 Ton crane. These cranes were specially designed to ensure a long reach and quick set-up times. All of our cranes are Cal-OSHA Certified as well Fed-OSHA/Cal-OSHA compliant.
321 CRANE OPERATORS
321 Crane has assembled a team full of professional NCCCO Certified and Qualified crane operators. Each of our highly skilled and trained crane operators put crane safety at the forefront of every job they perform. Although, you will come to discover the real difference is their willingness to go the extra mile and ensure everything is done safely, quickly, and efficiently.
Looking for a safe and efficient solution for all of your lifting needs?
NCCCO Certified & qualified crane operators
Boom truck fleet of four cranes to serve you
Free removal and responsible recycling of your old units
Trained lifting specialists are standing by to offer free job evaluations and lifting solutions for your project
Support Team
Our crane specialists have dozens of years of combined experience in the crane and HVAC lifting industry. They are equipped with the latest in scheduling, lift planning, and digital equipment monitoring systems, which will ensure your crane will arrive on time, and is prepared to complete anything you need done. If you need additional lift planning don't hesitate to contact us for a free job check.
Discover why 321 Crane is Sacramento's best crane service for all of your lifting needs
From HVAC & air conditioner lifts to spas, light poles, trees and personnel platforms (man basket) let us show you why we deserve to be Your Crane Service
Crane Service Roseville
As the largest city in Placer County, Roseville was previously known as a railroad town but....
Crane Service Sacramento
When the California Gold Rush started in 1848, an increase in trading began...
Crane Service Elk Grove
Just south of Sacramento, also known as California's state capital, is the rapidly growing city...
Crane Service Davis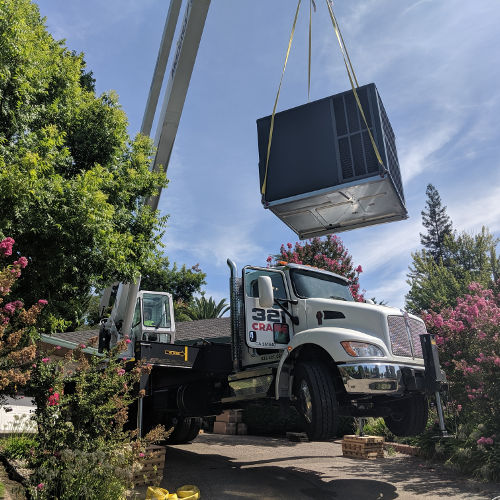 Davis California is located inside Yolo County, neighboring other nearby counties ...
Cranes serving Sacramento and surrounding areas
Davis
Folsom
Rancho Cordova
Florin
Woodland
Carmichael
Arden-Arcade
North Highlands
Elk Grove
Foothill Farms
Vineyard
Fair Oaks
Antelope
Citrus Heights
and many more...
321 Crane has worked with many reputable companies in some of the most demanding industries. We have integrated the best safety standards and practices within our own rigorous in-house safety programs which utilizes both classroom and practical training to ensure continuous crane safety and OSHA Compliance.
Services Provided
22 & 40 Ton Cranes
Qualified Rigger and Signal Persons
City Permit Processing
FAA Permit Processing
Scrap Metal Removal
Suspended & Fixed Personnel Platforms (2 persons)
Spreader Bars Available For Your Lifting Requirements (cranes standard equipment 8' 10' 12' & 14' Spreader)
Certifications & Qualifications
NCCCO Certified Operators
LACC Substance Abuse Program Compliant
OSHA 10-30 Hour Construction Health and Safety Program
CPR/First Aid Certified
Qualified Lift Plan Specialist
EPA Certified Recycling program
FAQs
How do I know which crane I need? The best way to figure out the crane that you need is to determine:
How much does the load weight?
How far away does the load need to be placed?
Is there a somewhat level and firm area for the crane to set up?
Are there any obstructions or power lines that may interfere with the lift?
Lift Planning
Planning a crane lift can be a very simple task but may also become a fairly complex task. There many factors that contribute to a crane lifts complexity and we hope after reading this you may learn a few things that may increase your crane lift planning efficiency.
BEFORE YOUR CRANE'S ARRIVAL CUSTOMERS SHOULD MAKE SURE
All required electrical clearances will be maintained during the crane lift.
The supporting surface for the crane will support the weight of the crane and anticipated load (Caution for Underground tanks, un-compacted soil, voids, loose-fill, depressions, and buried utilities).
The access road or driveway for the set up location is sufficient to support the crane. (weights of cranes)
All parked vehicles and debris are cleared out of the anticipated crane set up location.
The landing area for the load is ready for the load to be placed.
Contact a lift specialist for you next crane service...